Reviews



A Big Tomato production. Produced by Adrienne Gruben, Nancy Schafer, Jason Silverman. Executive producer: Scott King.
Director: Robert Byington. Screenplay: Byington, Bill Stott, Johnny McAllister. Based on the story "Javelkemeiche" by Byington. Camera (Foto-Kem color): Paul Kloss; editor: Garrett Savage; music: Alex Greene; production design: Gigi Causey; costume design: Hunsacker; sound (Dolby): Mac Melson; assistant director: Karen Dinitz; Running time: 82 MIN.

Olympia Miraflores........Carmen Nogales
Bill Daniel...............Jason Andrews
Ed Pedernales.............Damien Young
Motel Manager.............James Black
Mom.......................Patricia Fiske
By Leonard Klady , January 19-25, 1998
A yarn about pursuing one's dreams, however improbable, the modestly budgeted "Olympia" combines goofball situations and serious themes, to disarming effect. While the pic has limited commercial prospects, filmmaker Robert Byington displays talent and the potential for wider commercial reach.

The story turns on title character Olympia Miraflores (Carmen Nogales), a Mexican television soap star obsessed with competing in the Olympics in the javelin throw. Neither her fans nor her trainer-manager (Damian Young) particularly like the idea.

Meanwhile, across the border in Laredo, Billy (Jason Andrews) is in a seemingly dead-end scenario. At thirty something, he's still looking for a steady job, indulged by a mother who's happy to let him slide as long as he stays close to the nest. He's a mess in every possible department.

According to movie logic, it's inevitable that the two will meet and enable each other to make some crucial life choices. That occurs after Olympia (via a swim across the Rio Grande) takes refuge in the back seat of Billy's car. He doesn't quite know what to make of the spear carrier, but soon adopts the idea of coaching her as she pursues her dream. The idea so outrages his mother that she locks him out of the house and leaves him a cookie jar of loose change to start a new life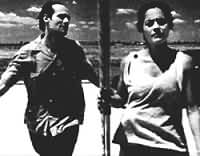 The whole notion is preposterous. Yet the filmmaker and his capable cast dig into the material with such conviction, one barely notices its outlandish nature. There's just enough verisimilitude to give credence to Olympia's athletic program and to Billy's by-the-book training regimen. Unfortunately, once the story's put in motion, there is more incident than character development, and it sprints to what feels like an abbreviated yet labored conclusion.

Nogales deftly conveys her character's resolute nature and insular disposition. But it falls to Andrews, as Billy, to provide pic's emotional core. Slothlike and slovenly, he conveys Billy's simplicity with enormous warmth. Equally vivid is Young as an abrasive, obsessive type who's more attuned to the headstrong actress-athlete.

Tech credits are good, especially considering the pic's blatant economy of means. Byington uses a pseudo-documentary approach, capturing the saga with vivid, direct images and a subtle, ironic score.
Alison Macor, March 16, 1998
Given that one of my childhood idols was Olympic javelin thrower and super-athlete Babe Didrikson Zaharias, it's no surprise that a film about a directionless momma's boy (Jason Andrews) who coaches a Mexican American soap star-turned-javelin contender (Carmen Nogales) can get under my skin.
Aside from its loopy subject matter, however, Robert Byington's "Olympia" showcases terrific performances and an engagingly idiosyncratic narriative. Pursued by her former manager Ed (Damian Young), Olympia leaves behind her semi-celebrated existence and crosses the border clenching a javelin between her teeth. Chance and desperation unite Olympia and Andrews' Bill, and it all comes together when Bill decides to coach Olympia to javelin-throwing glory.
Hopscotching around generic conventions, "Olympia's" performances are its strongest suit. Despite an underdeveloped role, Nogales invigorates the film with her star presence, and Young's droopily sardonic posture invites laughs even without dialogue. The self-assured camerawork of Austinite Paul Kloss and a hypnotic score featuring the music of Esquivel polish Byington's second feature, demonstrating that, like Bill, his work shows promise.